Foundation confirms deal to be first office tenant at TechMill 41 in Lawrenceville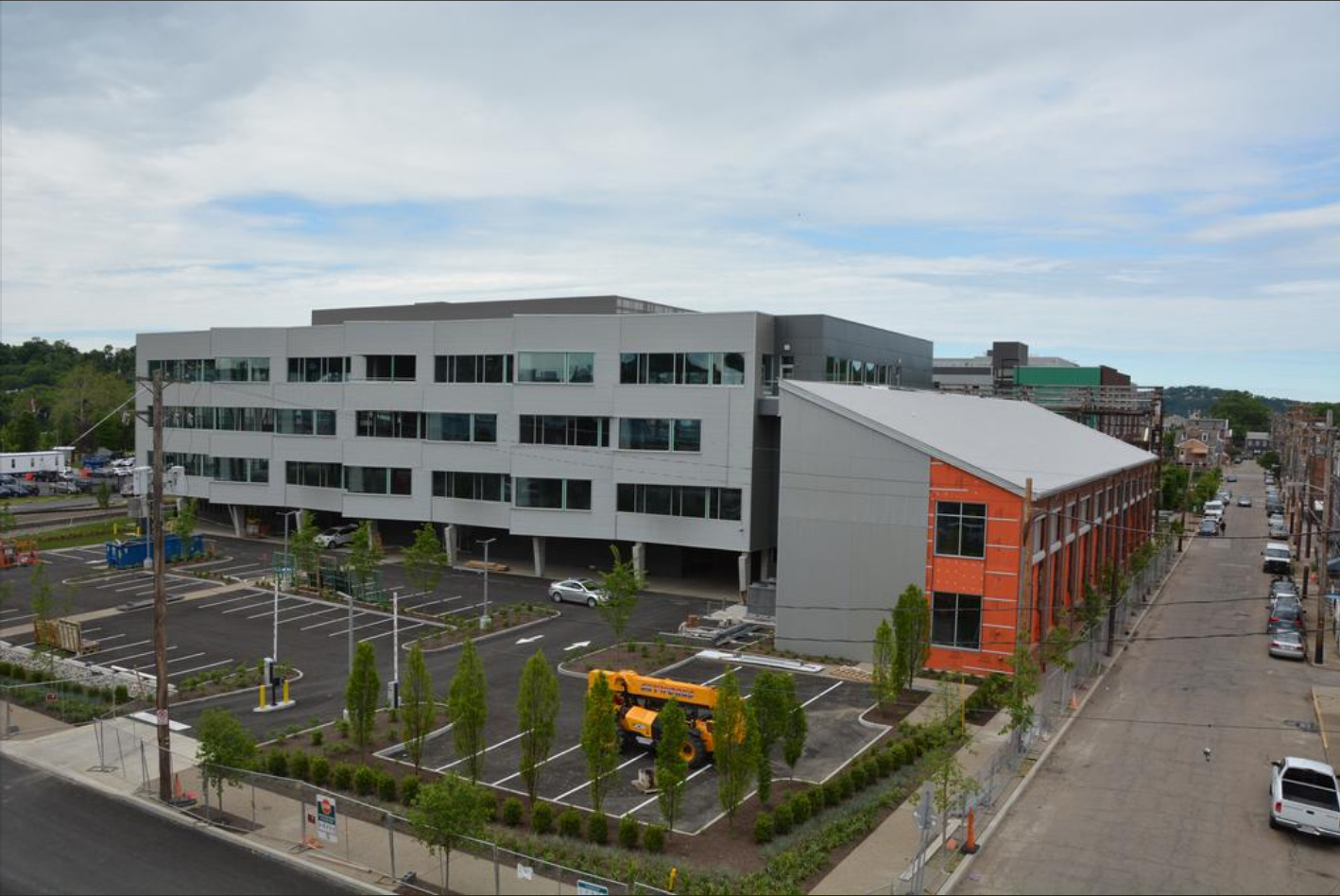 Tim Schooley
Reporter, Pittsburgh Business Times – www.bizjournals.com
Giant Eagle, the region's dominant grocery chain, is on the brink of an office move into the city.
The grocery chain is poised to set up a satellite office on the top floor of TechMill 41, the new approximately 86,000-square-foot office building by Fort Willow Developers neighboring the 40th Street Bridge in Lawrenceville.
The company confirmed it has taken the entire 23,000-square-foot top floor for what it's calling its new "Innovative Tech Annex."
Giant Eagle President and CEO Laura Shapira Karet explained the thinking behind the new office, expected to be the company's first office move into the city in years.
"As the retail industry continues through this amazing period of technological change, we are extremely fortunate to call Pittsburgh – a city with a deep and growing tech talent pool – home," she said. "Our new office space in the heart of Lawrenceville will provide us with a geographic advantage to compete with regional, national and global companies that are vying for this unique expertise."
Giant Eagle expects the new office will be a nerve center of sorts for what it called its ongoing digital transformation.
The new office is expected to be home to a team of about 150 employees, both established and new, tasked with helping the company further develop and grow such initiatives as Curbside Express online grocery ordering, Scan Pay & Go scan-as-you-go technology, the Giant Eagle mobile app, and others.
It's a technology team that Giant Eagle maintains at its headquarters at RIDC O'Hara as well as at a satellite office in San Francisco.
The deal marks a major win for Fort Willow Developers, landing the first office in the city by the region's dominant grocery chain, putting a company that generated nearly $9 billion in revenue last year and employs more than 32,000 people into an office address in a neighborhood that was relatively unproven for it only a few years ago.
Michael Downey, a vice president for Avison & Young, who represented the building for lease, said the development team for the project was "extremely excited" for Giant Eagle to come to the new building.
"The Giant Eagle signing for us is a validation of what everybody is talking about," said Downey of the role well-located urban offices can play in attracting talent. "This location is going to be a catalyst for their tech group to continue to grow and its going to help them to retain the top talent in the area."
Fort Willow Developers built the new office building along a stretch of Lawrenceville and the Strip know as the city's Robotics Row as a complement to its established Foundry at 41st apartment development next door.
Such moves into urban offices are becoming increasingly common.
With its headquarters in a suburban office park, Giant Eagle establishing a modest-size Lawrenceville office follows in the footsteps of such companies as Bombardier, Philips, Wabtec (NYSE: WAB) and others seeking to set up in the city to chase talent.
The Lawrenceville location is a comparatively short drive from Giant Eagle's headquarters at RIDC O'Hara into the city along Route 28 and across the 40th Street Bridge from which the new building is highly visible.
The Giant Eagle move, along with another impending deal, is expected to bring TechMill 41 to a stabilized level of occupancy, with about 20 percent of the space – about 18,000 square feet – still available for lease.
Alex Simakas, principal of Fort Willow Developers, expects an impending deal with an undisclosed robotics firm to come soon as well.
The lease up for his first office development has been a little more slow going than Simakas admits he initially expected.
While construction on the building was mostly completed a few months ago, Simakas has now landed Giant Eagle, which ranks as the region's largest private company, as a tenant.
He expects having a largely finished project to show helped in the end.
"There's nothing like seeing the space and walking in it," he said. "I'm very happy where we are."
Giant Eagle expect to move into the new office in early 2020.